Local Map Optimization: How to Rank Your Business Higher in Google
Guide to Improve Google Maps Rankings
What Is Local Search Engine Optimization?
Local SEO focuses on improving search result rankings within specific geographic locations.
If I do a Google search for "Ice cream in Cleveland," Google serves me specific results based on my geographic location.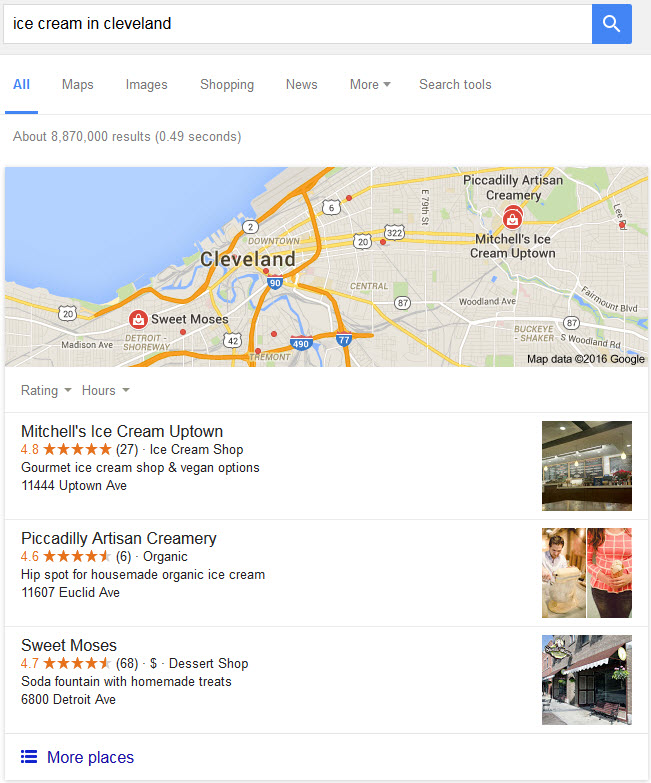 The prime local search ranking real estate is the within local map pack. These results appear at the top of the search results page above the organic listings. (See above image).
Before 2016, Google displayed 7 spots in the map, but today, they only display three.
Depending on the industry and business location, the local pack can be an extremely competitive spot. However, many business owners don't focus on a local SEO content strategy or business listing optimization. This creates opportunities for the proactive and savvy.
This post assumes your site is mobile-friendly, a must in 2016!
Google's Local Ranking Guidelines: Reading Between the Lines
Google provides local maps ranking guidelines.

The three major local ranking signals are:
relevance
distance
prominence
Although the guidelines are vague, they indicate the importance of creating trust.
In this post we will focus on normalizing business and website info to improve trust signals.
Accuracy builds trust, trust builds love, love leads to rankings.
How Structured Citations Improve Google Map Rankings
Google wants to provide the most accurate information possible. Normalizing structured citation information across the web improves accuracy and helps facilitate Google's goal.
In the world of SEO, this information is the business name, address, phone and website information. This is also known as NAPW.
All good NAPW begins with a Google business listing
This may involve first, creating, or claiming your Google My Business (GMB) listing and then ensuring structured citations across the web are normalized based on your GMB listing.
Step 1) Claim & Clean Your Google My Business Listing
Google aggregates data from around the web and oftentimes creates auto-generated business listings. To determine if you have a listing, conduct a search for your business name. Keep in mind duplicate listings may exist. Step 2 addresses that issue.
If Google search results display your business listing in the right side knowledge graph, you have a Google My Business listing!
If you do not find a listing, you can create it on Google.
How to Claim Your Listing
A listing that displays "Own this business" is unclaimed.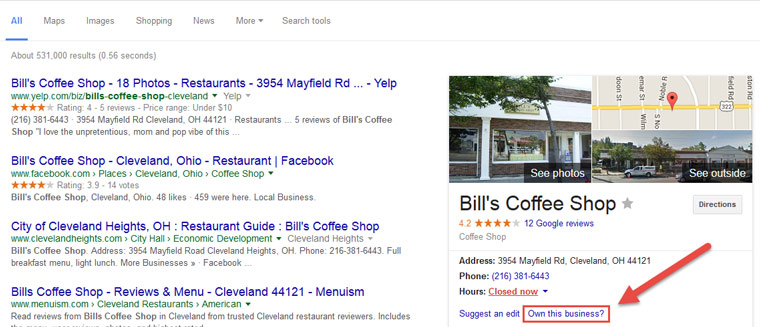 Follow these steps to claim your business listing:
Click the link that reads "Own this business?"
Accept Google's terms
Important Step: If your business is correct you can verify right away. If it is not, you will need to first edit the address. Otherwise they will send the verification card to the wrong address!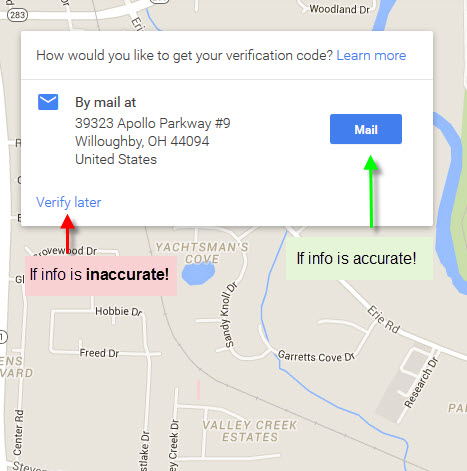 If your info was accurate follow the prompt on the next screen to verify your business via phone or mail
If the info is inaccurate, click "verify later." This will allow you to edit the business info before verification. Click the edit button on your business profile page to make changes.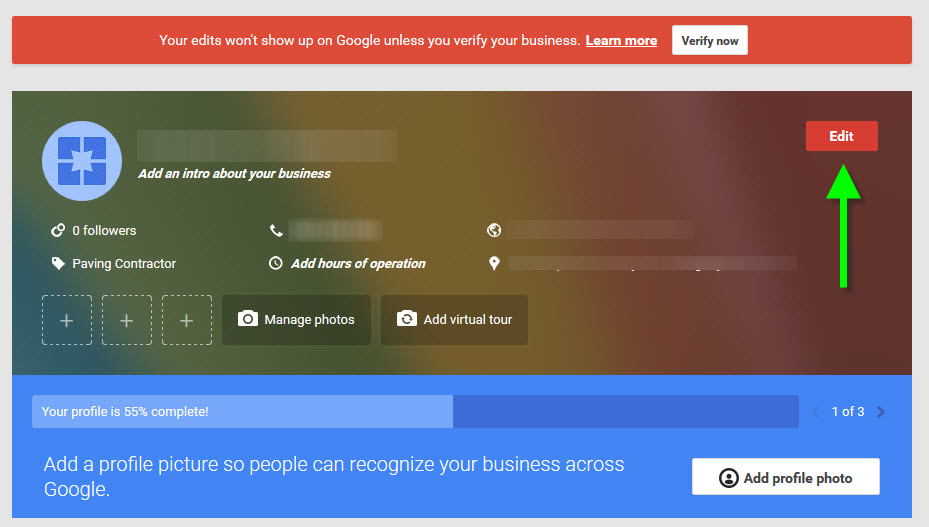 After making necessary edits – save and click verify on the home screen. Then follow the prompts.
After Claiming Your Google My Business Profile:
Ensure the business name, address, phone and website information is exactly how you want it to appear online
Choose the right business category – view a complete list
Add images and business information to the listing
Link the listing to your website
Follow all Google's quality guidelines
After claiming your Google My Business listing,  head back to your website. Make sure the same exact NAPW info is in the footer and on your contact page. If necessary, update before moving on to step 2.
Step 2) How Improve NAPW Accuracy & Gain Structured Citations
There are tons of business directories on the web. Because of this, there is a chance your business info is irregular or duplicated. The easiest way to find duplicates and incorrect info is by using this free local listing discovery tool from Moz.
Input the information used in your Google My Business listing. The tool then crawls the web to identify inaccuracies and duplicates. After the directory listings are identified, you can clean them up, claim them, or create new ones manually.
Once this process is complete you'll be on your way to gaining more trust from Google. Check back with the tool in several weeks to see if your accuracy improved.
Conclusion
Local SEO can turn into a complex operation. There are over 40 factors that play a role in rankings. Cleaning up NAPW info across the web can help improve Google maps and local rankings. Don't stop there, use our killer content strategy to take your site to the next level.
If you need help implementing the steps above, reach out to me via email.
---
About Dynamics Online
Dynamics Online is a full service internet marketing agency that provides web design, search marketing, social media strategy and more. Reach Ray personally via email.
https://www.dynamicsus.com/wp-content/uploads/digital-marketing-local.jpg
426
640
Ray Kirsch
https://www.dynamicsus.com/wp-content/uploads/DO-logo-700.png
Ray Kirsch
2016-07-01 15:33:35
2016-08-31 11:13:27
Local Map Optimization: How to Rank Your Business Higher in Google