How to Use Instagram for Business in 2016
Instagram is used by 26 percent of adults on the internet. Majority of users are ages 18-29, glued to their phones and heavily engaged. Instagram reports that a total of 80 Million photos are shared each day.
That's a lot of opportunity.
Instagram for Business in 2016: Getting Started
Instagram is a great place to interact with your target audience. There are long lists of companies that improved brand recognition, product awareness and click-through-rates through Instagram.
Unlike casual users, businesses must focus on developing brand narratives. Instagram writes on its website: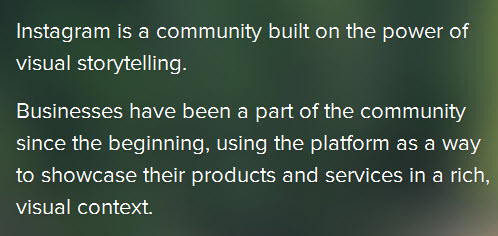 These "visual stories" are the foundation of every campaign. Studies show that social sharing is easier to achieve when individuals are able to use posts as a method of self-definition and goodwill. Aligning these concepts with your brand and campaign goals is the perfect first step.
Creating An Effective Profile
You'll need to first download the app before accessing Instagram's online platform.
When creating your profile, keep the following list in mind:
Ensure your username is identifiable and ties to your brand
Use a simple profile photo that will look good when cropped to a 150 x 150 pixel circle
Write a bio that aligns with your company mission, yet won't bore
Local business should add location information to their bio in order to establish a connection with users in their city
Using Instagram Like A Champ
In a recent post I explored the topic of effective social media use. It frames this post very well so I recommend reading it before continuing.
Now then.
I scouted for trends among the top 10 Instagram accounts. All contained:
High-quality images
Short descriptions
Emoticons
Hashtag use
Frequent postings
Occasional mentions
The key takeaway: always use the available features within Instagram to bolster your posts.
Use the description. Use hashtags – which can boost reach by allowing you to tap into trends or market niches. Use cross promotion. Post Often.
Easier said than done, but if you need templates or a tool for inspiration, check out Canva.
Marketing on Instagram
Businesses are guests on social media. No one likes the intrusive, annoying or pushy profiles.
That's why valuable and engaging posts are so important. They speak directly to your target audience in a conversational manner. No self promotion, only real conversation.
With that in mind, there are several options when it comes to marketing on Instagram.
Advertising
Influencer marketing
Contests
This short video discusses how to build brand audience by leveraging hashtags and the competition.
Advertising on Instagram
There are three types of advertising options on Instagram:
Photo
Carousel
Video
The screenshot below helps explain each in detail (green arrows are mine for emphasis)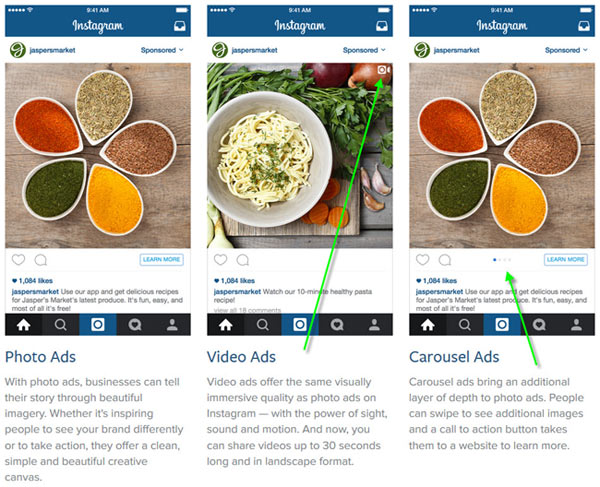 Photo Ads
Photo ads are simple and align with Instagram's core functionality: photo sharing. They function as sponsored posts and include a calls to action. If a user taps the photo a call-to-action will appear over the image. There are several size options, including landscape and portrait formats.
According to the Instagram's guidelines, image size for square and landscape is 1080×1080. You can also include up to 300 characters in the description.
Website URLs included in captions will not be clickable, but your call to action button will function as a link.
Carousel Ads
Carousel ads are great for displaying 3-5 images, videos, links or calls to action within one ad. Instagram reports that carousel ads tend produce very positive results. However, carousel ads may require  more resources in terms of creative development and implementation.
For example, check out GMC's carousel ad below.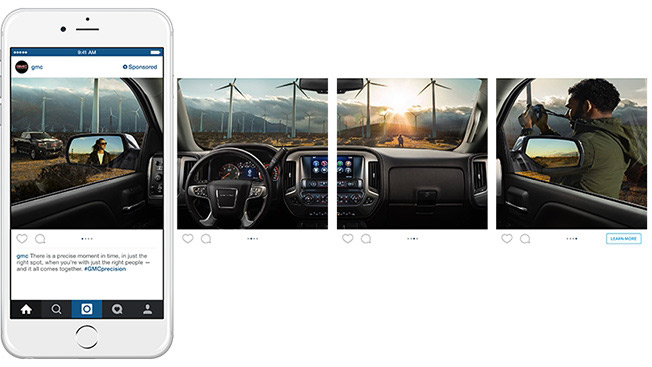 The nice part about carousel ads is that each image can link to a different landing page. This ensures a high amount of relevance and greater potential for a conversion. Visit this public Facebook page to view some great examples of the carousel in action.
Video Ads
Video ads are a great way to show a seamless 30 or 60 second ad to users. Based on ad settings and general eligibility, video ads may auto-play within the feed and views are counted at the 3 second mark.
The video ad can also include a 2,200 character caption, although the recommended limit is 125.
Instagram uses a scroll-based feed which is why you should keep the following points in mind when using video:
Make your video stand out in the feed by including motion within the first few seconds
Craft each video ad as if it were a silent film; do not rely on audio as a sensory element because auto play does not include sound
Time is short, set the tone and convey your message clearly and early
Watch how Ben & Jerry's utilized Instagram video advertising. Their goal was to remind viewers that ice cream still has a place during the cold winter months.
Influencer Marketing
Influencer marketing is a great way to leverage another individual's expertise or reputation to improve brand awareness, reach and trust.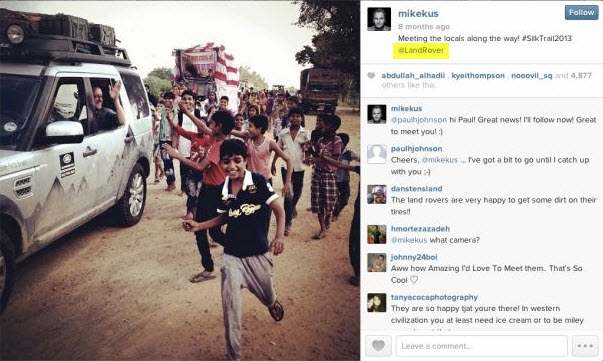 A study conducted by Tomoson found that for every $1 spent on influencer marketing, businesses saw a return of $6.50 . Wins all around. It's important to find influencers within your specific industry. Tools like Buzzsumo make it easier to find poeple who can effectively reach your target audience. The FTC has specific guidelines regarding influencer marketing disclosure. Educate yourself before jumping in.
Contests
Everyone loves free stuff. Contests are great ways to improve engagement and user generated content. They typically work best once a business has a comfortable amount of active followers . This is because contests usually require a follow, an image upload, a campaign-specific hashtag and a share. The requirements help create the snowball effect needed to produce brand awareness.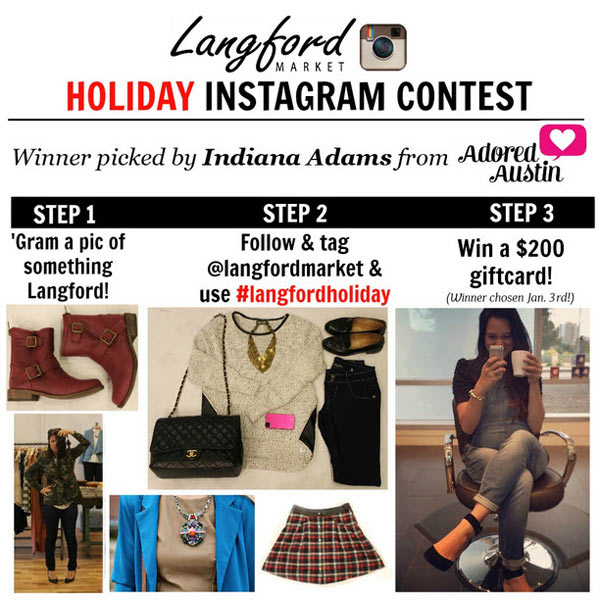 The example above showcases how Instagram contests can be used to increase brand awareness and user generated content. Don't forget to create official contest rules and host them somewhere accessible. You can link to them in the post itself.
Best Time to Post
According to Hubspot, the best time to post on Instagram is anytime except 3-4PM on Monday to Thursday. Some recommend matching content with the time of the day. This is a good strategy for brands that can easily tie themselves to daily life.
Measuring Success
Key performance indicators (KPI's) are a great way to measure success trajectory. These can be:
Follower growth
Video views
Ad clicks
ROI
Engagement (shares, likes and comments)
Data is key to making informed decisions. Determine which metrics reflect your campaign goals and measure them accordingly.
Client Implementation
Dynamics Online developed a social media strategy for Great Scott Tavern, a restaurant located in Euclid, Ohio. Their goal was to reach young 'foodies' in the Cleveland area and improve brand awareness through social media. Instagram was recommended as part of the strategy due to the visually appealing nature of their products. They now use Instagram to showcase their menu and reach out to locals via user mentions.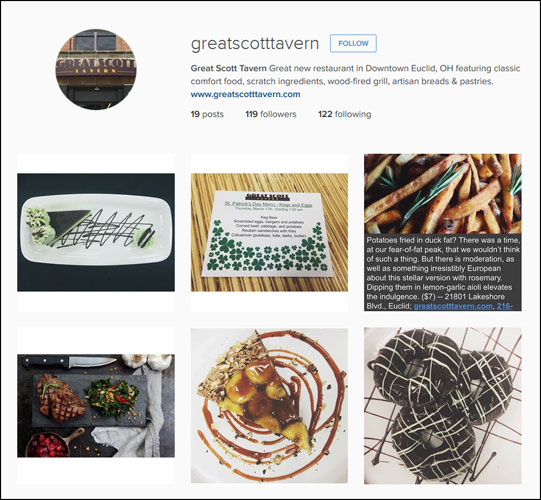 Conclusion
Instagram is a great opportunity for businesses looking to build an engaged audience.  There are various types of marketing strategies that can be implemented. A good step-by-step plan is:
Know your target audience – do they use Instagram?
Set goals
Craft posts that support a brand narrative and campaigns goals
Leverage marketing opportunities
Measure results
About Dynamics Online
Dynamics Online is a full service internet marketing agency that provides web design, search marketing, social media strategy and more. Reach me personally via email.
https://www.dynamicsus.com/wp-content/uploads/DO-logo-700.png
0
0
Ray Kirsch
https://www.dynamicsus.com/wp-content/uploads/DO-logo-700.png
Ray Kirsch
2016-03-11 10:53:05
2016-05-31 13:21:14
How to Use Instagram for Business in 2016