The Beachwood Chamber of Commerce connects business professionals with the local community. 
Dynamics Online sponsored January's Beachwood Chamber of Commerce Luncheon. The event drew a crowd of local and regional business professionals from a variety of industries.
Bruce Newburger, President of Dynamics Online, spoke about the company's involvement with the greater Beachwood community.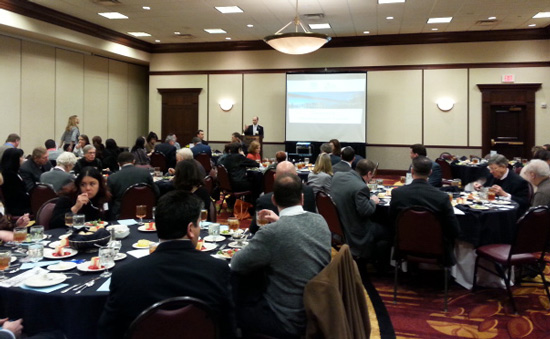 In the past, the Dynamics Online team visited the Maltz Museum, volunteered at the Gathering Place and attended events at local venues.
In closing, Newburger summed up 3 social media trends to be aware of in 2016:
Video will become the most consumed content on the web
Social media platforms will create more in-app purchase opportunities
Social media advertising will become more integrated with the user experience – leading to an increase in ad spend
Cleveland: A Hot Topic
Adam Fishman, Principal at Fairmount Properties, spoke in depth about the resurgence of Cleveland's waterfront and key partnerships that resulted in the $750 million dollar Flats East Bank project. Fishman reiterated the importance beautifying the city before the world spotlight shifts to Cleveland come July.