Dynamics Online is pleased to announce the launch of one of our latest WordPress websites, Small Steps Big Strides!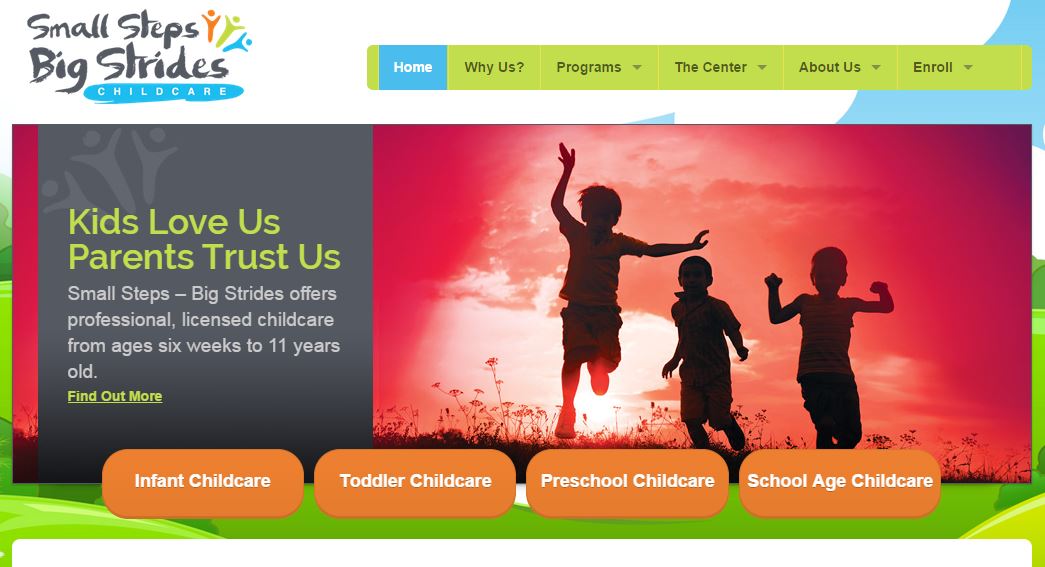 Small Steps Big Strides, a premier childcare facility in Stow, Ohio, approached Dynamics Online a few months ago about a new website. Their primary objective was to make the site user-friendly, so all visitors could easily contact them to set up a tour or simply receive more information. Supplemented by a visually appealing design and beautiful photography, this brand new website does just that.
Small Steps Big Strides was formerly Kids-Play of Stow, so even though the brand was new, the experience and reputation were not. Thus, another goal of the site was to clarify the rebranding and renaming, a facet covered prominently in various sections of the site content.
Logo Design
We were also responsible for the company's brand new logo. Based on the visual bug provided by Small Steps Big Strides, we created a unique type treatment, modified the color scheme and made it more in line with the feel and branding of the new website.
Dynamics Online, a regional leader in web design and internet marketing, has the full-service capabilities to launch a full website design or a redesign, depending on your needs.
We specialize in:
E-Commerce Solutions
E-Mail Marketing
Give us a call today!
(216) 292-4410
---
Jeff Hirz is the Social Media and Content Marketing Manager at Dynamics Online.
You can reach him by calling (216) 292-4410.